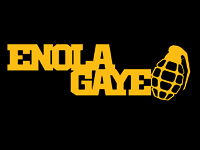 Enola Gaye
Disclaimer for Smoke Grenades:
In compliance with Department of Transportation regulations, smoke grenades must be shipped via ground shipping with hazardous material handling. A hazardous material handling fee of $30 per package will be assessed by the carrier at time of check out.

Smoke Grenades cannot be shipped outside of the lower 48 states of the U.S.A
All non-qualifying orders will be canceled and refunded immediately
Do not leave smoke grenades under high heat, or in the vehicle unattended
Due to the nature of this item and the complexity requirement on shipping, smoke grenades cannot be returned
Do not use indoors
Do not use in near flammable objects
Do not use in open brush, or around flammable surroundings
Enola Gaye is Europes longest serving pyrotechnic company manufacturing pyrotechnics for the paintball and airsoft industries. The brand was founded in 1996 with the idea to manufacture a pyrotechnic paint grenade that looked similar to the real thing and was biodegradable; the idea was to make a product from pressed paper pulp, similar to an egg box. Previously the former Astra Fireworks had offered a similar pyrotechnic made from polystyrene which was painted black, but blasted into thousands of un-biodegradeable white pieces, this was unrealistic for paintball fields looking to keep their woodlands tidy under the watchful eyes of the UKs tough planning councillors.
Displaying 1 to 9 (of 9 products)
1
Displaying 1 to 9 (of 9 products)
1