Frequently Asked Questions (FAQ)
Ordering FAQ
How do I place an order?
Do you have a cut off time for order processing?
Yes, for UPS 3 day, 2 day or Next Day orders. Orders must be received by 1:00 PM PST for same day shipping. Orders placed after 1:00 PM PST may not shipped until the following business day. Regular orders are dispatched to the shipping center daily (M-F) for order fulfillment.
Can I make changes to the order I just placed?
Changes can be made before your order is sent to our shipping center. Log in into your account, click on the order and submit "Change Request".
If option is no longer available, please call us at 626-286-0360 or and we will do our best to accommodate your request. We will always dor our best to help with any special requests.
My order didn't go through, but I have something that looks like an unexpected charge on my credit card. What happened?
If the info you entered didn't match what your card issuer was attempting to verify, it might have created a pre-authorization hold on your card. That's just a placeholder your card creates when it authorizes a purchase. They "fall off" your card in a couple of days, don't worry! Even if you tried to make the purchase multiple times (and thus have multiple pre-authorizations!) If you're not sure, you can always contact your bank to confirm they're pending pre-authorizations, or drop us a note and we can confirm it too!
Can I change the delivery address after I place an order?
If your order is dispatched via UPS, it's easy - use UPS My Choice to register yourself and update your address!
Click on the button below to register: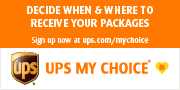 If your order hasn't been shipped yet, we may be able to update your address. Please contact us.
When will my order be shipped and how long does it take to arrive?
At Evike.com, we understand the importance of getting your items to you as fast as possible. Our team is dedicated to make sure all orders are shipped on time.
Ground orders are generally shipped within 1-3 business days excluding weekends and holidays.
Express orders received before 1:00PM PST are shipped the same day (excluding weekends and holidays).
International orders take an extra 2-3 days to ship due to special handling requirements.
Evike.com is located in California - to get an idea on domestic transit time, please see the transit time map below: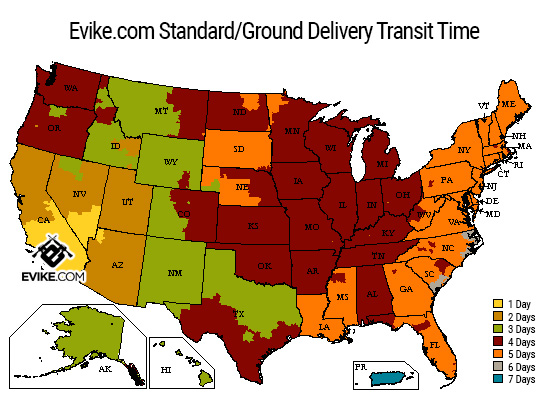 Please note that our carriers do not deliver on Saturday, Sunday or any national holidays.
What do I do if my items arrived damaged or defective?
The first step is to complete a Return form under the Return or Repair Service page. Evike.com carries a 45 day warranty on top of any extended manufacture warranty unless otherwise specified. Evike.com is known to have the best after sale support so your defective items are covered. If you received a package damaged in transit, please help us keep original package in tact. UPS may require to pick up the damaged package for inspection.
Can you ship to my country?
Airsoft is illegal in some countries. We do not know the import regulations for each country, so it is best to contact your local custom office or do your research before placing an order. For countries that know and do not ship to, you will see an error message at checkout. We try our best to update this information regularly as we learn about each country.
In addition, there is duty charges when you buy from other country. This is in addition to the prepaid shipping fees.
For more information about International orders, please visit INTERNATIONAL ORDER INFO PAGE.
How do I place an online order with a gift card (generally designed for physical swipe transactions)?
For card holder protection, Evike.com utilizes AVS (address verification) to ensure all packages are shipped to the billing address of the credit card owner.
For gift cards, you will need to call your gift card provider to add your billing and shipping address to the card prior to placing an order online.
In the event your card is declined due to AVS mismatch, the funds will be placed on hold by the card issuer for about 2-5 business days. (Quick tip: To get your funds released immediately, contact your card issuer/bank.)
What are "Preorder" items?
Items with the description "Pre-Order estimated date arrival" are not in stock, but you can reserve yours by placing an order and paying for it first. As soon as the item arrives at our warehouse, we will ship out the reserved orders first in the order received. Pre-ordering allows you to reserve items before they arrive so you can get the items that you really want.
For more information, please visit Preorder Page.
What are "Boneyard" items?
For more information, please visit Boneyard.
What is the shipping method "Evike Super Saver"?
This is a flat rate shipping method for qualified domestic or International orders. The shipping service carrier is selected by Evike.com and may be changed without notice.
What shipping methods are offered?
Evike Super Saver - Usually shipped via postal service based on the size of the item
Standard shipping - Usually shipped via postal service based on the size of the item
UPS Ground - Ground delivery are usually 2-5 days in transit time
UPS 3 Day - 3 day transit time
UPS 2 Day - 2 day transit time
UPS Next Day - Not available for Saturday delivery
What payment methods are accepted?
Visa, Mastercard, Amex, Discover - We also accept international credit cards with address verification service (AVS) as required by our payment processor.
PayPal
Bank Wire - Only available to some accounts
General FAQ
What is Airsoft? Why Airsoft?
Airsoft is a recreational sport started in the 1970s with games run similar to paintball. Airsoft guns projects 6mm plastic bbs. Airsoft is designed for use in a certified or regulated sporting event or competition, in military or civil defense activities and theatrical productions.
Airsoft guns are NOT bb guns or paintball guns. Airsoft guns do not shoot at dangerous speed and impact like BB guns. Airsoft gained its popularity over paintball because it is more affordable, better looking, more practical, and much cleaner than paintball guns.
Spring, Gas and Electric Airsoft guns?
Spring guns are manual powered Airsoft guns where you fire each round by pulling the bolt into the locking position (like most sniper rifles). They are generally cheaper and meant as collectors' items.
Airsoft gas guns are powered by Co2 cartridge, propane adapter or green gas. They are generally found in the form of pistols where a full size gearbox cannot fit into the frame of the gun.
Airsoft electric Guns (AEGs) are powered in a similar way to a RC car internal, designed for easy troubleshooting, high power and high rate of fire and are the most popular forms of regulated sport event.
Airsoft BB 101
What is HOPUP?
How do I do "THIS" to my AEG?
What is a spoof email and how to protect your identity?
Spoof emails are sent by 3rd party attempting to trick you into providing your personal and billing information over the internet. The links you click on will look identical to your bank or PayPal's website, only with a different URL. Spoof emails are generally sent with familiar made-up identities such as PayPal, your bank or big online merchants such as Evike.com or Amazon.
How to protect yourself? Spoof emails generally have a familiar made-up sender. General rules of the thumb. NEVER input your password on the internet from a link in an email or pop-up window. If you did, change your password immediately.
Please note that Evike.com and staff will never email you asking you for your bank or PayPal account information. If there is a need to provide any personal info, you should call us directly at (626)286-0360. Or email us directly at [email protected]
How to use the "WISHLIST" on Evike.com?
It's simple! Instead of adding an item to cart, click on "Add to wish list" to add it to your wish list. You can manage your wishlist at any time by logging into your account. This convenient feature helps you remember items you buy frequently or plan to buy in the near future.
Why is Evike.com the best place to shop for Airsoft?
Evike.com is able to become the #1 Airsoft retailer and distributor today because we understand our customers' needs and always put our customers first. Our team includes some of the most elite and knowledgeable Airsofters. As a team, we are constantly developing and innovating new products and improving on ways to better serve you. We work with numerous manufactures in the United States and around the world to bring you the widest selection and quality products at unbeatable prices. Our commitment to the sport, the community, and our customers is what made us #1 today and we will continue to improve what we do so we can better serve the sport, the community, and you.