Evike.com Superstore is the world's largest Airsoft showroom occupying over 100,000 square feet with unmatched inventory and selections.
You will find unbeatable pricing, selection, friendly and knowledgeable staff to service you with all your Airsoft needs!
To reach the Evike.com Superstore, please call us during store hours at (626) 407-0561.
For questions relating to online orders, please e-mail us or call our customer service team at (626) 286-0360 (Monday to Friday).
Walk-In Superstore Location
Evike.com Superstore
2801 W. Mission Rd.
Alhambra, CA 91803
Walk-In Superstore Hours
MON
TUE
WED
THU
FRI
SAT
SUN


10am - 6pm
10am - 6pm
10am - 6pm
10am - 6pm
10am - 6pm
10am - 6pm
10am - 6pm

Holidays
Annually, the Evike.com Superstore is closed on New Years Day, Memorial Day, Independence Day, Labor Day, Thanksgiving, and Christmas Day.
Will Call
WILL CALL service is currently offered only at the Evike.com Superstore in Alhambra, CA, USA.
1. Place order online, selecting as delivery option: Evike.com Superstore Pick Up (Alhambra, CA, USA)
2. You will be notified via email once order is ready for pick up. Please do not go to the store before receiving the order ready email.
3. Orders can be picked up during our store hours as displayed above.
4. If you need to make any changes, please contact our support team before picking up, our store staff is not equipped to deal with order changes. Thank you.
Superstore Phone Number
Store Product Lines
| | |
| --- | --- |
| | Airsoft |
| | Airgun |
| | Fishing |
| | Tactical Gear |
| | Outdoor/Camping |
| | Law Enforcement/Military Training |
Store Features and Services
| | |
| --- | --- |
| | HPA Fill |
| | Equipment Rental |
| | Tech Service |
| | Shooting Range |
| | Fishing License |
| | Airsoft Nation Shooting Challenge |
| | 40,000 Product Selection |
| | Capsule Machine |
| | "Tank" Fish Tank |
| | Evike.com Airsoft Museum |
| | Price Matching |
Superstore Email Contacts
Take the virtual tour of the new Evike.com Superstore, now on Google!

Why Shop at the Evike.com Superstore?
World's Largest Inventory
World's Largest Selection
Professional & Friendly Staff
Factory Direct Pricing
Buy Direct
Industry Leading Warranty and Support
The Superstore is a 100,000 sqft facility with plenty of parking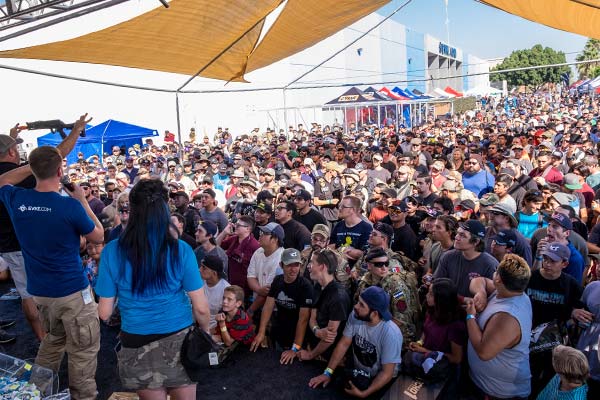 The annual AirsoftCON draws thousands of airsoft fans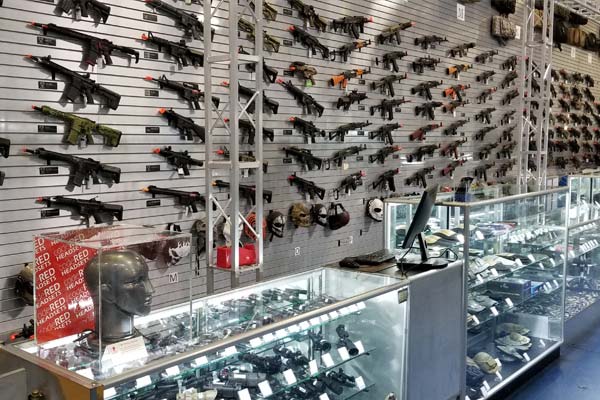 The world's largest selection of airsoft rifles
...and more airsoft rifles
The world's largest selection of airsoft pistols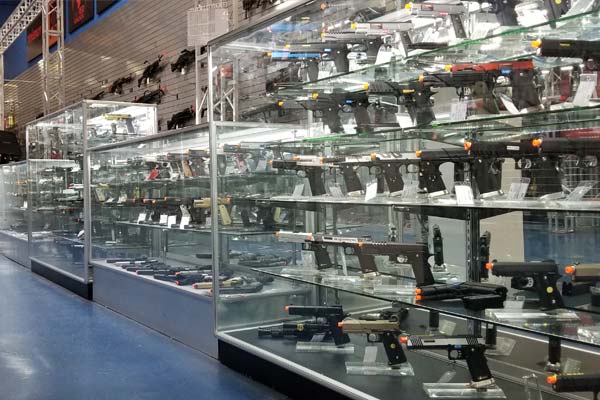 ...and more airsoft pistols
In-store shooting range with interactive targets
World-famous Tank Fish Tank by Animal Planet show: Tanked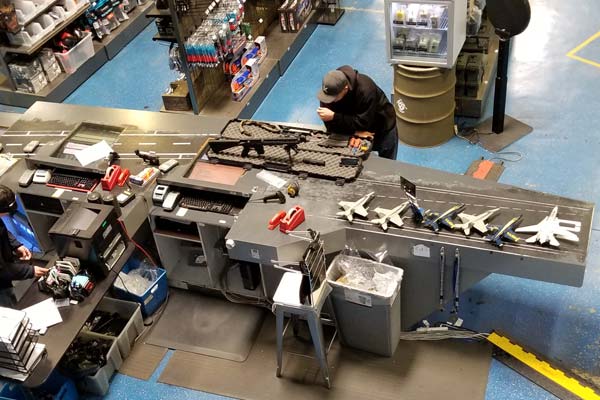 Can you spot the aircraft carrier?
Cabinets, counters and walls full of airsoft guns and parts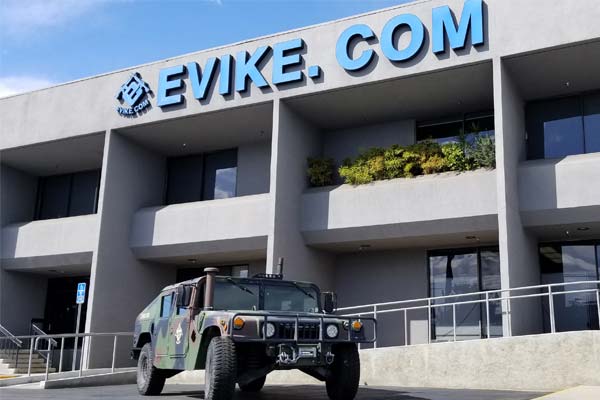 Look for the Evike.com Humvee out front!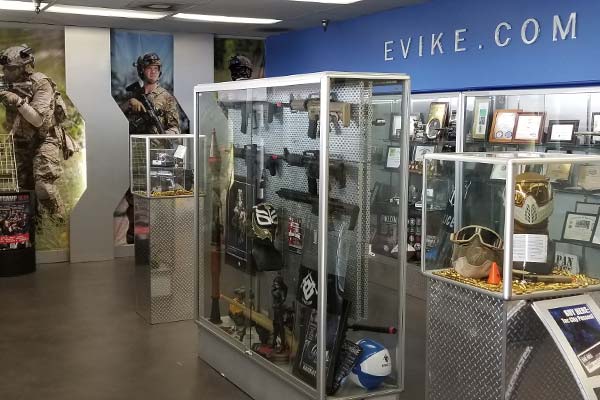 Visit the Evike.com memorabilia museum on your way in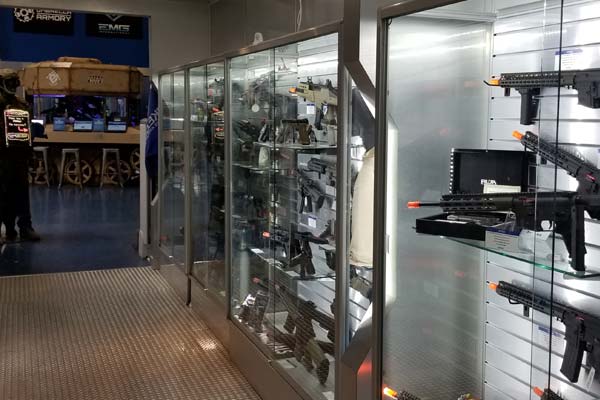 The tunnel of weekly spotlight items and deals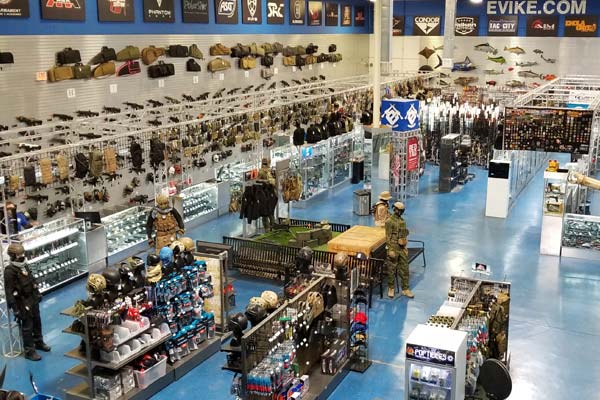 The world's largest selection of airsoft and tactical gear
Airsoft vending machines
The world's largest selection of airsoft eyewear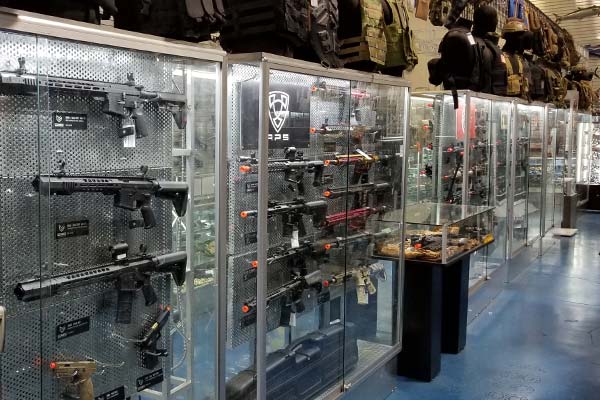 Check out the selection of custom guns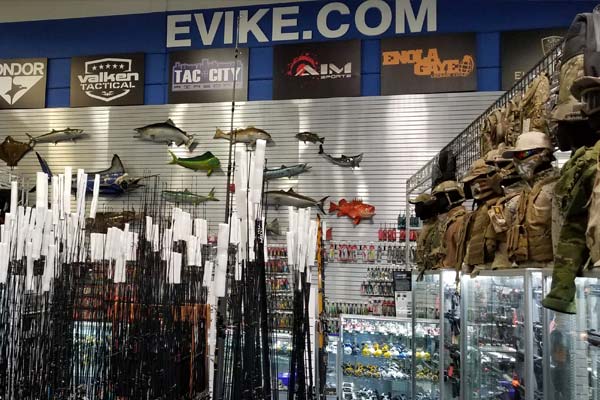 Come hook a tuna on our simulator in the Fishing corner!