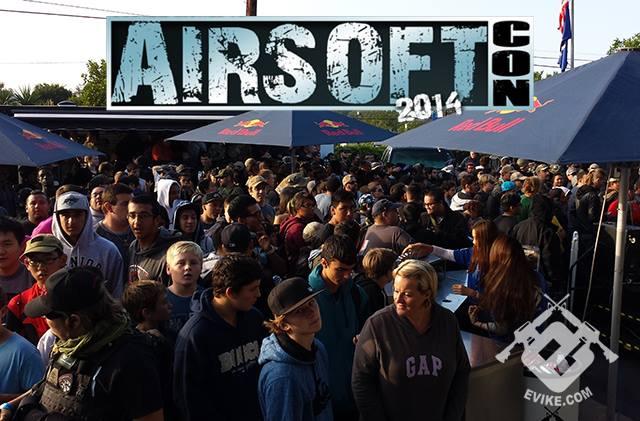 Dear Airsoft Nation,
Airsoftcon is an Airsoft exclusive convention dedicated to the Airsoft Nation made possible by over 50 manufactures, hundreds of Airsoft team players, and millions of Evike.com fans. Annually, we strive to make the next Airsoftcon better and for 10 years straight we will make it happen! With an over-whelming support from your favorite manufactures, food trucks, Red Bull and industry celebrities, we can't quite describe how exciting we are this year to present you Airsoftcon 2014. There will be more exciting new product releases to see, unbelievable deals to save, challenges to complete, free stuff to grab, awesome people to meet, raffles to win and the party itself may just be your best this Halloween with DJ, Beverage Bar, Competitions, Challenges, Hot models and more!
Note the following Airsoftcon 101:
1) Airsoftcon Speed Pass System:
Every visitor will be issued an unique wristband upon arrival. The convention DJ will call you when it's your turn to enter the superstore, so you can enjoy the convention while we assist all shoppers in the order you arrive with zero possibility of anyone cutting in line. We encourage all shoppers to have all items desired ready to help us speed up the process. The unique number on your wristband will also serve as your free raffle ticket!
2) Airsoftcon Pre-order System:
From the 8th to the 18th, you may visit the super store to have your order ready and paid for. Pick them up at the Evike booth on the day of Airsoftcon away from the crowd. With over 100+ staff and our new express checkout system, shopping will be a breeze!
3) Airsoftcon convention store:
A dedicated team of staff will be located on the convention floor to chip away the superstore traffic, with Box Of Con-ness, sneak previews, and pre-order pick up!
Your voices are heard, we are dedicated to make the best Airsoftcon in the past even better!
Sincerely,
Evike.com Inc. & The Airsoft Nation.

All rights reserved. *In-store only sale excludes a selected list of map brands, elite force, umarex, gift cards, event admissions, and movie tickets.