About Evike.com

About Evike.com:
For over a decade, Evike.com Inc. has been a leading distributor, innovator, showroom, social media, and developer of Airsoft training equipment. Evike.com is also the exclusive representation, service center, key distributor, and maker of a majority of premier Airsoft brands for the sporting, training, and commercial markets. Our reputation for quality, innovation, safety, and client support make us the leader in the development of technologically advanced Airsoft replicas, distribution, and buyer support.
With strategic partners located in USA, Hong Kong, China, Taiwan, Japan, Europe, Canada, and South America, our largest team of USA based staff in the industry operates the largest high end Airsoft distribution vehicle, the largest Airsoft warehouse, the largest Airsoft convention, and the largest Airsoft showroom in the world.
Why Shop at Evike.com?
Evike.com is voted #1 Airsoft retailer by the Airsoft community. Witness why more Airsofters shop Evike.com over any others combined!
We are the home to majority of the newest releases, the upstream of distribution, and the designer + contributor behind many of these releases.
Our market position and volume ensures that no one understands Airsoft more than we do.
You want it? We got it! From selections, competitive prices, newest version of all inventories, exclusive items, hard to find products and much more! We are dedicated to be your one stop shop!
We are #1 today because we understand that it is our customers who made us #1. We faithfully follow the patch of "TAKING CARE OF OUR FANS BEST".
We are home to the world's largest Airsoft warehouse. We are the world's largest Airsoft walk-in retail store. We are home to the world's largest Airsoft annual convention. .
We offer true warranty and product support that others may imitate, but never duplicate.
Featuring: Unlimited Phone Support. 45 Day True Warranty. Price Match Guarantee. Extended Holiday Warranty. Factory Direct Pre-Rebated Pricing. World's Largest High-End Airsoft Inventory And Selections. USA Based Corporation. No Drop Shipping. Discounted 3-Day Select Shipping. Evike.com Perfect Match Guarantee. Evike.com BB Guarantee. Evike.com "Newest Version" Guarantee. Evike.com "Up-stream" Distribution Guarantee.
Evike.com is THE biggest Airsoft retailer world-wide. It is why manufacturers choose Evike.com to represent their products and to be their USA representative. Evike.com has the ability and vision to provide better after-sales support, pricing, selections, availabilities, warranty, factory support, technical supports and more!
Evike.com is always giving-back to the community with sponsorships on top of our continuous effort to legitimate Airsoft world-wide.
With over 12 years of Airsoft experience. We know Airsoft and we know you made us #1! Manufacture and US Custom issues may be out of our control, but we are always here to help and your satisfaction is our guarantee.
Evike.com promotes the sport of Airsoft like no other. It is always our continuing effort to grow the sport of Airsoft with you.
World-wide industry leading customer service team & technical support.
Evike.com is NOT a drop shipper. No risk on getting old shelved inventory buying from #1.
We are factory & distributor direct bringing you only the most updated version of inventories in the USA with factory direct support.
Evike.com certified Airsoft consumer products are reviewed to be industry compatible before we carry it. Don't risk buying something with no spare parts & factory support.
You want it? We got it! We provide world-wide industry leading selections, pricing and quality of goods.
Evike.com is an USA corporation.
- Live customer service support.
- World-wide industry leading warranty and technical support.
- Domestic shipping and handling fee with free shipping offers*.
- We provides job opportunities and boosts US economy.
- Everything is shipped from our USA warehouse. Our professionals take care of import clearance, US Custom examinations, import duty, over-sea fraud and hassle for you.

Free life time tech support. We lead in every aspect of the Airsoft proshop corner to make sure we serve you best.
100% safe SSL encrypted shopping! Evike.com is PCI compliance.
Last but not the least, Evike.com don't take our business and growth for granted. We are constantly improving our system to reach perfection and our #1 who made us #1, will always be #1.
Fun Facts About Evike.com and our franchises:
Airsoft Nation:
The World's largest recorded Airsoft event with precision head-count. 2500+ Players!
AirsoftCon:
The World's largest Airsoft Convention.
Evike.com Superstore:
The World's largest Airsoft Pro-shop.
Evike.com Corporate:
The World's largest Airsoft warehouse.
What is Airsoft?
Airsoft is one of the fastest growing sporting activities in the United States. Millions of Americans of all ages partake in Airsoft. Airsoft is a game where participants use Airsoft guns that primarily fire 6mm plastic BBs used for paintball style gaming in an arena. Since its humble beginnings in Japan back in the 1970's, Airsoft serves many functions in addition to recreation, including to aid in military and law enforcement agency training.
Airsoft products are safe, low velocity projectiles in comparison to BB and paintball guns. They are used for recreational sport that encourages socialization, teamwork, and players abide by a code of conduct.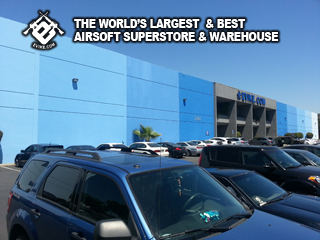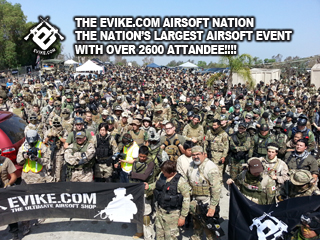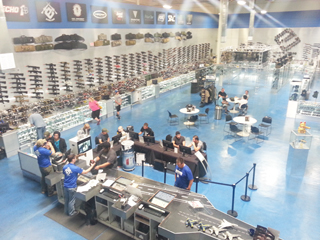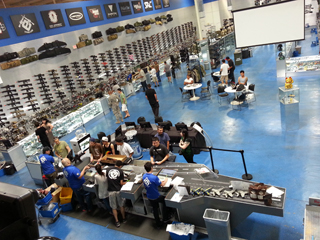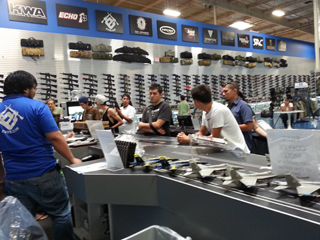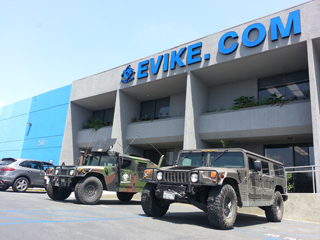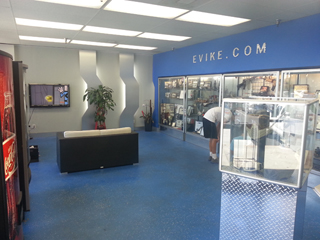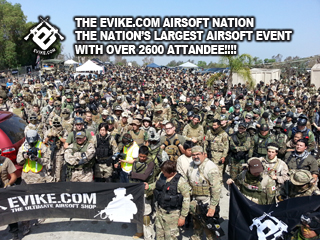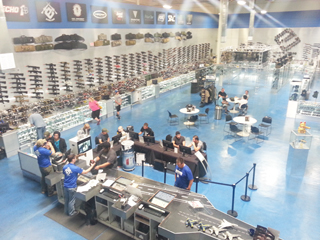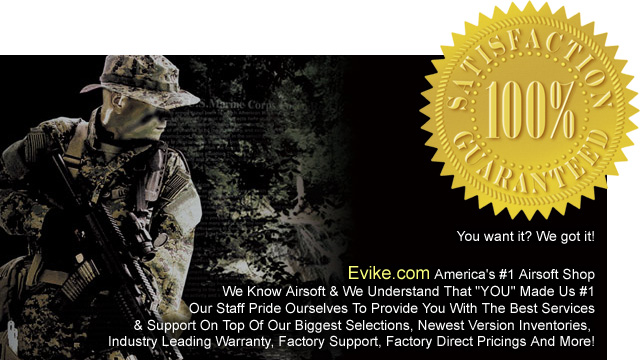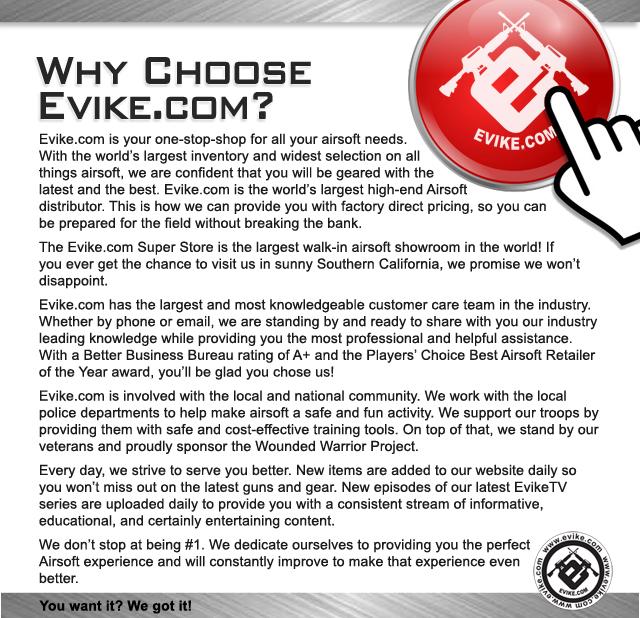 What Evike.com offer for small / large size innovators, manufactures and companies:
We are constantly looking for great products and deals for the Airsoft Nation. Evike.com work exclusively / semi-exclusively with over 200 innovators, sole-proprietors, manufactures and distributors to make up the selections offered in the worlds largest Airsoft warehouse and superstore.
What we offer our business partners and innovators:
Exposure: innovators that works with Evike.com will experience more dealer request from Hong Kong / Russia / Asia / Europe / Japan / Canada / South America after Evike.com carries your product.
Exposure: We have the world's largest Airsoft game (2500+ players), largest Airsoft only convention (Airsoftcon) and world's largest Airsoft store.
Exposure: Thousands of resellers reference Evike.com as the guide to resell.
We distribute your product to over 900 USA based resellers making small business in all regions possible.
Being the largest Airsoft retailer, we provide valuable market / customer feedback.
Industry leading warranty and support to end users on your products.
Exposure: Evike TV / Evike Facebook / Evike Twitter / Evike Community.
Ultimately, Evike.com is a platform, where we connect the world's leading innovators, manufactures and distributors with the end users. Our shoppers ultimately decide what is offered here at Evike.com and what not. Our crew of 100+ USA based staff is dedicated to providing everyone we work with the perfect Evike experience. It is why we are among the favorite and easiest to work with company among distributors and innovators!