Holiday 60 Day Warranty
We are offering extended 60 day warranty for all purchases made between Black Friday until end of the year. Another reason why shoppers pick Evike.com as their #1 Airsoft store. Happy Holidays!
2017 Holiday Shipping Information
Ground, Evike Super Saver, and Evike Economy were NOT guaranteed to arrive by Christmas. There are always the possibility of carrier delays during the holidays. Below were the suggested last-minute Ground order dates. Please note the below cutoff times are for the United States 48 lower states only.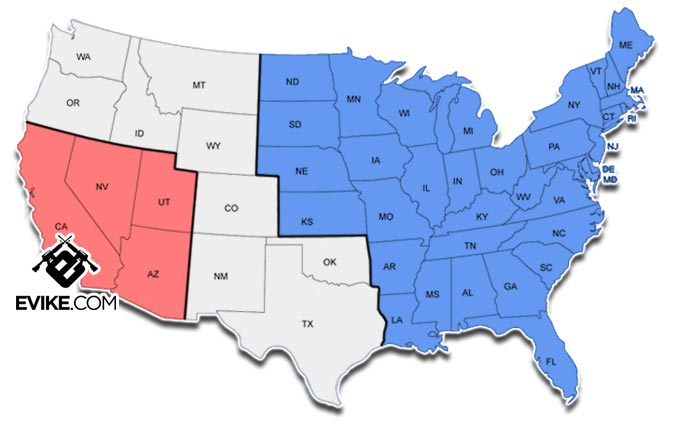 CA, NV, UT, AZ Ground (Red) - Order by 12/18 midnight PST
All Other West Coast Ground (Gray) - Order by 12/15 midnight PST
East Coast Ground (Blue) - Order by 12/13 midnight PST
3 Day - Order by 12/18 1:00pm PST (4:00pm EST)
2 Day - Order by 12/20 1:00pm PST (4:00pm EST)
Next Day - Order before 12/21 1:00pm PST (4:00pm EST)
Order Processing Time for Ground Orders
Please take order processing time into account for ground orders, which may take 1-3 business days (excluding weekends).
Order Verification Delay
If you shipped to a different address than your credit card billing address, our fraud department may contact you via phone or email to verify the order. Please be sure to provide a valid email and phone number to reach you. Please also keep in mind that shipping to a non-billing address may delay the shipment of your order.
Contact Support
Evike.com Phone Support
(626) 286-0360
7:00am to 7:00pm PST Monday through Friday
Evike.com Email Support
Thank you and Happy Holidays!